I'm a bit of a history buff..
I haven't formally studied history, yet it has always been something that has fascinated me, particularly whilst working at Celtic Castles. I can't help it. With all of our properties having such a vast variety of tales and even legends behind them, how can anyone help but be intrigued?
So, for those of you whose fancies shall be tickled by this, here are a few little factoids (certainly not a comprehensive list of everything to know!) regarding the history of a couple of the castles you may wish to consider for your vacations…
Château d'Audrieu, near Bayeux, France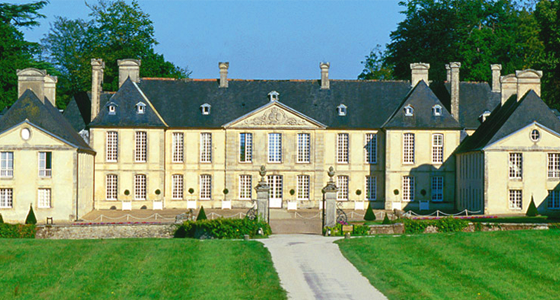 Some of their trees have cancer: a sentence I bet you weren't expecting to read in this article, but there we are!
World War Two was raging in Europe and D-Day had arrived. The Normandy Landings had taken place in 1944 and the château was situated right between enemy lines, with Brits and Canadians on one side and a German Panzer division on the other. The building was hit by 27 105mm shells, as were trees on the grounds.
You can see big bulges and deep gashes on the trunks of the largest trees, which are the traces of deep wounds. Shrapnel penetrated the wood to a depth of 40 centimetres. Every year, even now, some of them die from the long struggle against the cancer which eats away at them.
Thornbury Castle, near Bristol, England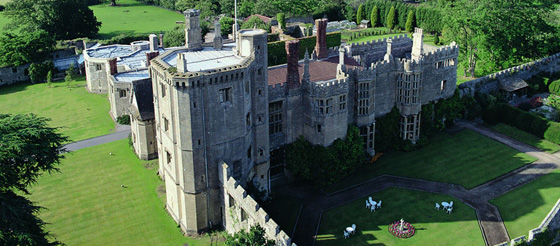 Think of the most famous characters from English history, and not too far down your list would be Henry VIII. He and one of his wives, Anne Boleyn, spent 10 days in the castle during his reign, when the castle was a royal demesne (part of what was owned by the King).
Sleeping in one of the rooms in the castle means the possibility of sleeping in a room that was slept in by the royal pair!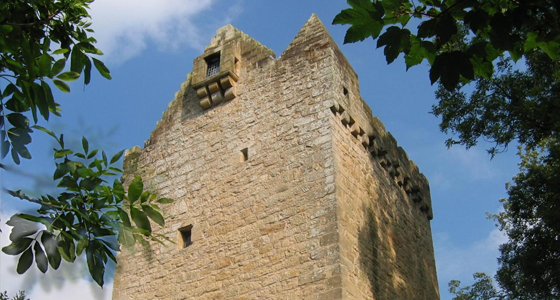 There was an Act of Scottish Parliament in 1535 which directed Scots with land to the value of 100 pounds to build themselves a defensive tower (35 square foot) to protect themselves from English Border raiders.
Obviously in at the time before there was a United Kingdom, there was very much an un-united state of affairs between us and our Scottish neighbours. The Tower of Hallbar is such a castle and was repaired and restored in 1998 by the Vivat Trust.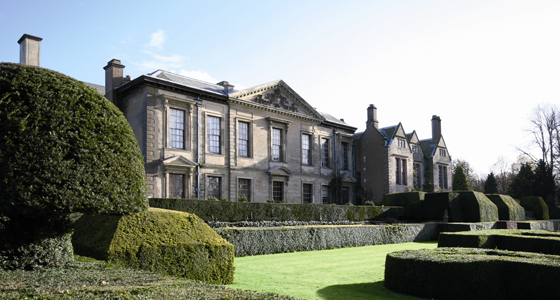 Coombe Abbey is, as its name suggests, not a castle, but an equally impressive former Cistercian abbey, founded in 1150. The oldest parts of the structure today are the stone-built cloisters dating from 1539.
Although not wishing to give him too much exposure in this article, Henry VIII plays a part in the story of Coombe Abbey too! The dissolution of the monasteries in 1540 meant that the abbey and its possessions then belonged to the King and has not been a home to monks since.
It has played host to many people of noble blood through the years, be that princes and princesses, lords and ladies, barons and baronesses, counts and countesses and today plays host to many guests since opening as a hotel in 1994.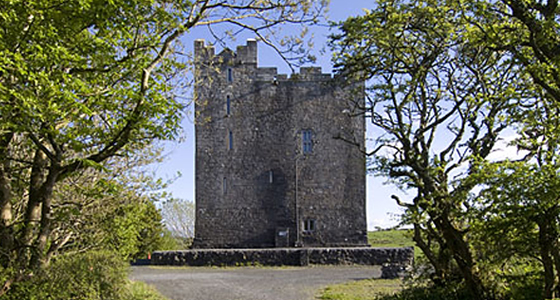 Oliver Cromwell was not a terribly nice fellow, as far as I can gather. 1649 was the year he sent his army from England to Ireland; they were the terrorists of the day. They attacked Ballynagowan Castle with cannons as part of their conquest of Ireland for Cromwell's Commonwealth.
Here's where one of the best-known characters in Irish tradition comes in. The heir to the castle in 1650 was Conor O'Brien, who died in a skirmish of Cromwellian troops in 1651. But his wife, Maire Rua, to save her children's heritage after her husband's death, married a few of Cromwell's generals (all of whom, somehow, ended up dead in mysterious ways). She ended her time entombed in a hollow tree, and the castle, like most castles in County Clare at the time, was occupied by the Lord Protector's garrisons, which kept his stronghold on the country under English military rule.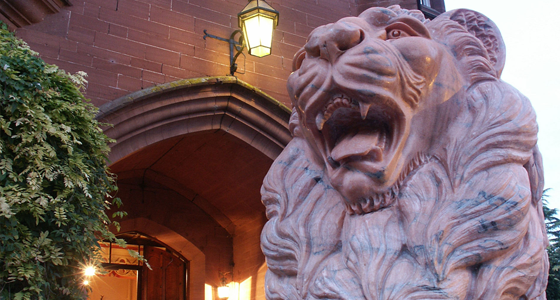 And this last drop into history for today takes us back even further. Before 1277, there was a wooden fortress on the current site of Ruthin Castle. This was then replaced by a red-stone fort to form part of King Edward I's "Iron Ring" of castles.
As the tales tell, the man given the castle by the King became a traitor of the crown and the castle fell at the hands of the army of Reginald de Grey, who was, again as the tales tell, the famous Sheriff of Nottingham tasked with defeating the followers of Robin Hood.
And from one legend to the next, while there was but a wooden fort on the site, King Arthur himself, no less, disguised himself for a romantic liaison with his mistress at the castle. As old adversary of his, Huail, recognised him and ridiculed him, so Arthur had him executed on a stone block now displayed in the Town Square of Ruthin!