Lucy's Scottish Castle Tour!
Here at Celtic Castles, you may not have realised, but we are extremely passionate about castles! So that we can provide our customers with up-to-date information and share our knowledge of the type of experience that you are likely to have at each of the castles in our portfolio, we do like to get out and about and visit them and, of course, stay in them.So this June, I have the job (it's tough but someone has to do it!) of touring Scotland.
It will be great to get out of the office, on the road and go out and meet the castle owners and teams who look after our guests so well on a daily basis.
As part of my role at Celtic Castles I plan Scottish tours, Irish tours, tours of England and Wales and even tours to French châteaux. So I am looking forward to visiting Scotland to brush up on my knowledge and get inspiration which I can then share with the team and, of course, Celtic Castles customers.
I have just finished compiling my itinerary and I have detailed this below.  I will be posting throughout my trip so do read the Celtic Castles blog so you can see how my adventures are going!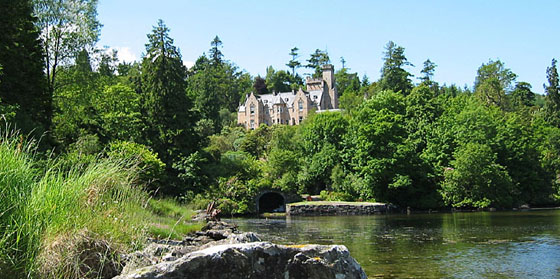 I am departing sunny Yorkshire and headed to my first port of call which is
Stonefield Castle
, located in historic Argyll on The Mull of Kintyre near the pretty fishing village of Tarbert. The castle stands high on the famous Kintyre peninsula, commanding spectacular views over Loch Fyne and is set within 60 acres of woodland gardens. The Castle is an outstanding example of Scottish baronial architecture, so it will be wonderful to see and of course to meet the team at Stonefield.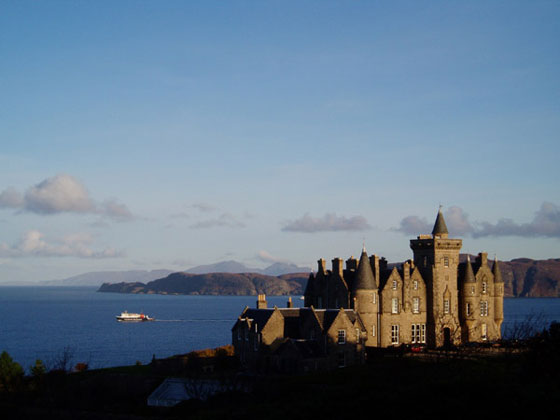 From Stonefield, I am headed to catch the ferry over to the Isle of Mull to visit the spectacular
Glengorm Castle
. My partner and my 19 month old little girl will be joining me on the trip and my little girl is ever so excited of the prospect of visiting Balamory (I dare not tell her that it is really called Tobermory!). We now have to sing the theme tune to Balamory several times a day!  Glengorm is on the northern tip of the Isle of Mull near and overlooks the Atlantic. The castle was built in 1860 and sits at the headland of Glengorm's vast area of coastline, forestry, lochs and hills.  I would love to be staying longer at Glengorm (you can actually rent cottages for week long stays) however my schedule will only allow a day, but I am sure my visit will make me want to return. Pam has promised to show me around the castle, which I am most looking forward to.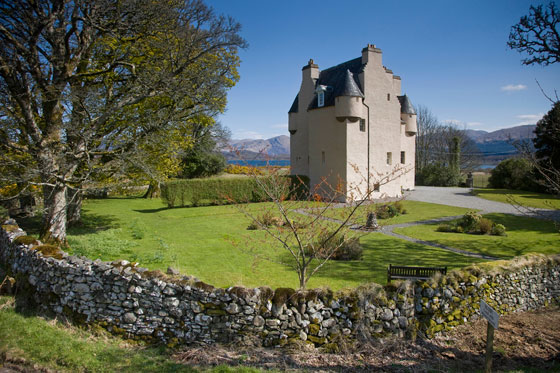 After an overnight stay at Glengorm, I'll be headed back to the mainland to visit
Barcaldine Castle
.  Barcaldine, located by the shores of Loch Creran, in the village of Benderloch, Argyll and Bute is ran by a great couple Liz and Ronnie who continuously get great feedback from our guests, so I feel like I know them already. It will be lovely to meet them and put a face to the name.  The castle only has 5 rooms, so it is always advisable to book in advance, as it is very popular.  It is also a great wedding venue, so it will be lovely to see where many of our customers choose to get married.
From Barcaldine, I'm headed to
Castle Levan
, overlooking the banks of the River Clyde. This castle only has 2 rooms, the Master Bedroom and the Former Guardsroom, so I think it will be quite a quirky place to stay. Our guests tell us that there is something quite special about a stay at Castle Levan, and that special ingredient is Lydia and Jan who invite guests in to their home. I'm told that the view is fantastic and the breakfast is to die for, so I am hoping to have a wonderful experience at Castle Levan.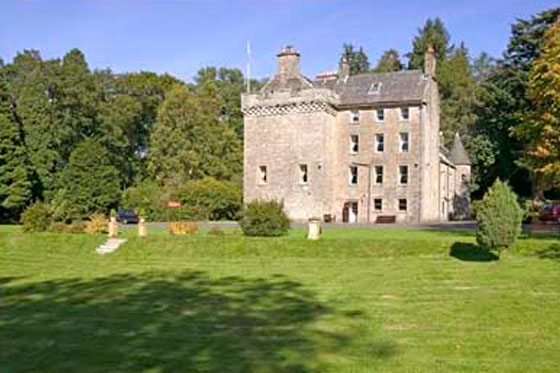 After breakfast I will then make my way to
Culcreuch Castle
, the home of the Barons of Culcreuch since 1699.  It has now been restored and converted by its present owners into a most comfortable family-run country house hotel.  Set in 1,600 acres of wooded parkland, it is the perfect base for touring the Trossachs and Highlands, where the legends of Braveheart and Rob Roy took root.  It will be lovely to tour this castle and take a wander in to the little village of Fintry. It will be great to meet the team at Culcreuch whom I speak to on a regular basis.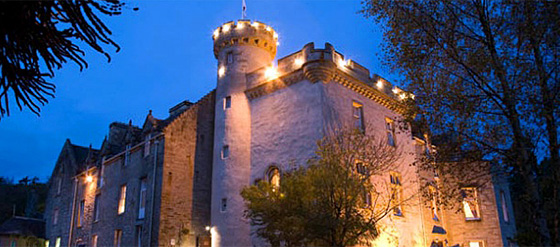 Departing Culcreuch Castle, I will then make my way towards the Scottish highlands to
Tulloch Castle
.  The castle is located on the edge of the bustling market town of Dingwall, with its characterful shops and museum, just 15 miles north of Inverness.  Whilst at Tulloch I am intrigued to see the monkey puzzle tree, which can be seen in the early photographs taken by Mary Willard Adams who visited Tulloch Castle in 1931. I will also be the one on the front lawn, kneeling down looking through the air-vent to get a glimpse of the now abandoned secret tunnel, which runs from Tulloch Castle across town to the ancient Dingwall Castle.
After a good night's sleep at Tulloch Castle, I am then headed down to the shores of Loch Ness to
Aldourie Castle
. Now I would love to say that I am staying in the castle, however Aldourie is not a castle hotel, but is actually an exclusive-use property sleeping up to 28 people.  I am however staying in the next best thing, which is one of the quaint
self catering cottages
on the Aldourie Estate.  I am looking forward to the peace and tranquillity that a stay at the cottages offers and of course searching for the famous Loch Ness Monster, otherwise referred to as Nessie!  The cottages are usually hired for a week; however the lovely Lavinia is allowing me a 1 night stay, though I do wish I had time to stay longer. On departure, Lavinia will be giving me a guided tour of the castle, which I am sure will be a real highlight.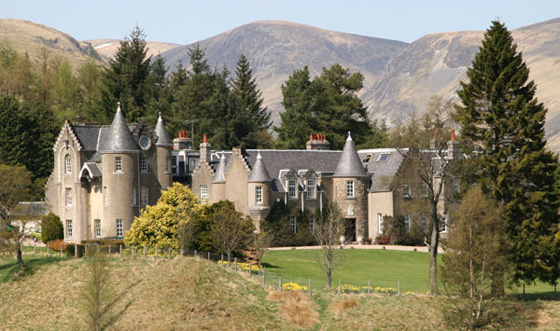 With my picture of the Loch Ness Monster to hand (well, I can hope!) I will then travel through the Cairngorms to reach
Dalmunzie Castle
. Dalmunzie is a stunning quintessential Laird's Mansion, turreted in the Scots' Baronial style and standing proudly at the head of a 6,500 acre estate, dating back to 1510. The castle enjoys magnificent mountain scenery, located in a hidden part of Highland Perthshire, so this will be a real treat as my tour is drawing to a close. The feedback from our guests who stay at Dalmunzie is always amazing so I know I am in for a lovely stay.  It will be great to meet the staff here who are always so friendly whenever I speak to them on the phone.
Waving goodbye to Dalmunzie, I will head just south of the Edinburgh area, for my final nights stay at
Cringletie House
.  Cringletie is a luxurious, romantic and comfortable small country house hotel and restaurant, the only AA Top 200 Hotel in the Scottish Borders.  The castle-type Victorian baronial mansion is set in the tranquil and rural countryside, where sheep outnumber humans! The house dates back to 1861 and the walled garden goes back as far as 1661, when the first Cringletie House was built.  My tour will surely end on a high as I sample the delights of dinner in The Sutherland Restaurant, which comes highly recommended.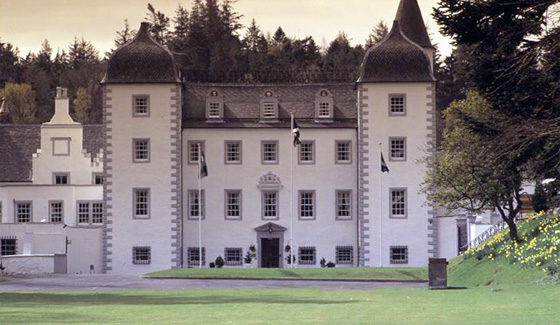 I quickly make a stop at Barony Castle on the return journey to say hello to the team there before heading back to good old Yorkshire.
For those interested in the geography of Scotland, the route I will be taking can be viewed on Google Maps at the link below:
http://goo.gl/maps/yEGT
So that is my itinerary; it is sure to be an experience. I'll be also trying to fit in a few other castle visits along the way.  Do keep checking our blog posts where I will blog on my stays at each of the castles.
I must personally say a big "thank you" to the castle owners and staff in advance of my stay whom I am sure will make me very welcome.
Scotland, here I come!
Lucy