Lucy's Scottish Castle Tour. Part 4: Castle Levan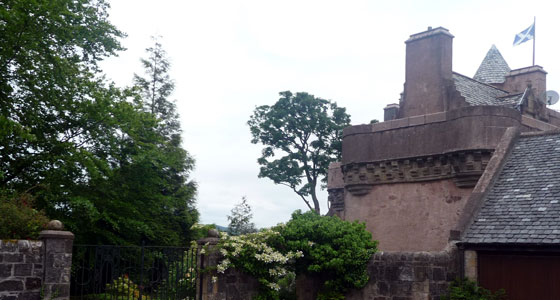 So with our bags in the car we are ready to go again, we really don't want to leave Barcaldine; it is firmly on my list of places to return to.
From Barcaldine Castle we are now taking a bit of a detour and headed back north again to Gourock to stay at the delightful
Castle Levan
.  The journey takes us back past Loch Lomond and the Trossachs National Park.  Leaving the national park area you head through more developed areas before heading in to Gourock with a view of the sea to the right.
Despite using the sat-nav you would think you are headed in the wrong direction as you take a turning in to a residential area.  The brown tourist signs however let you know you are still on the right track, and there at the end of the street stands the 16th-century tower house, Castle Levan; very quirky indeed!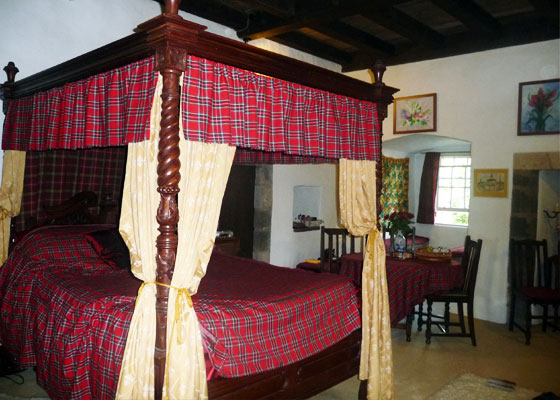 We park up and head down the steps in to the garden, we got the feeling of stepping back in time as we knock on the brown castle door, while Jasmine dances around saying "another castle, another castle".  We are greeted by Jan who welcomes us and shows us up to our room up the stone spiral staircase.  Castle Levan only has 2 rooms, the Master Bedroom and the Former Guardsroom so great for those who want a homely personal castle experience.  Our room for the night is the Master Bedroom (above) which is very spacious and can sleep 2 adults and 3 children comfortably, so plenty of room for just the 3 of us.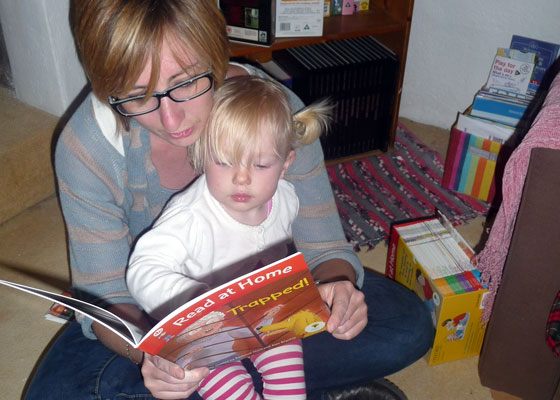 The room if filled with books including lots of children's books so Jasmine is in her element!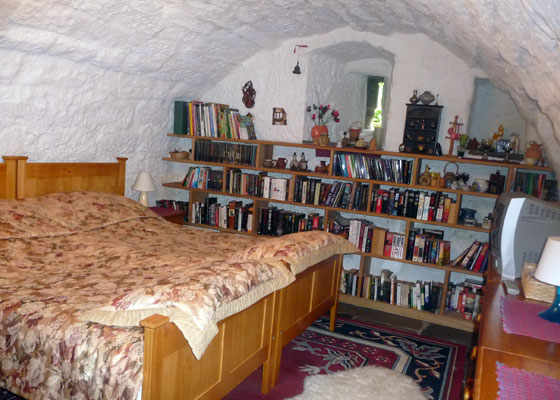 We take a peek in the Former Guardsroom which is on the ground floor; this room can either be a twin or double and is smaller than the master bedroom but has a vaulted ceiling so adds to the castle feel.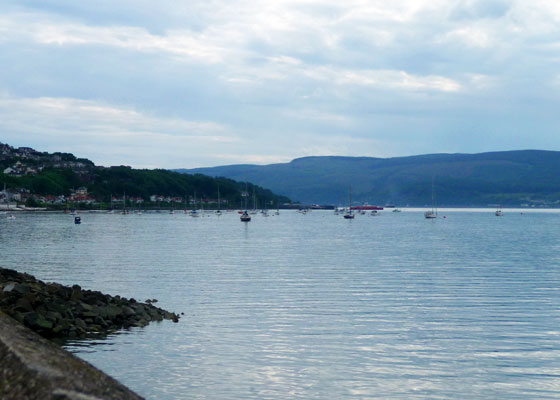 Castle Levan is a bed and breakfast, however dinner can be arranged in advance if you wish.  We wander the castle and even step outside… on to the roof!  After exploring we head out in to town for a wander and pay a visit to the new outdoor swimming pool right by the sea, which has just been built.  There are a few options in the town for eating and for more choice you can head in to Greenock a 10-minute drive away.  The location of the castle is ideal: convenient for motorway and rail links to Glasgow, plus Glasgow and Prestwick Airports, ferry points to Dunoon and the Argyle Peninsula, Isles of Bute and Arran.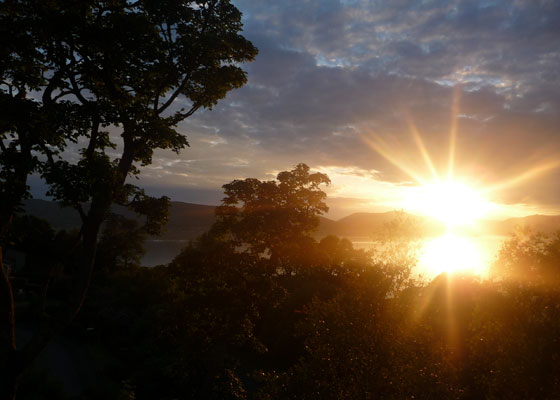 After dinner we head back to the castle in time to watch the beautiful sunset from the rooftop, it really is spectacular and a great feeling to be stood on the roof of a castle.
I spent the evening chatting to Lydia who is a wonderful host.  It was Lydia's dream to run a bed and breakfast, so it is great to see her living her dream.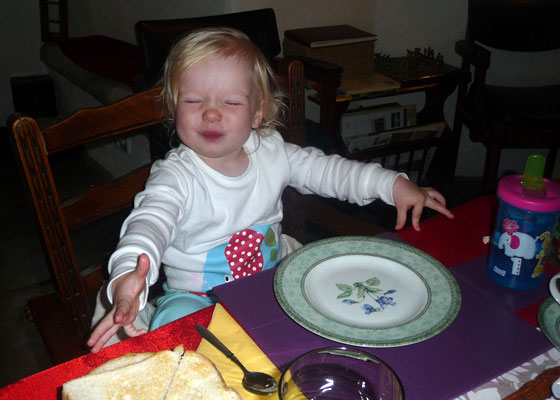 After a good nights sleep we get ready for breakfast, the owners ring a bell to let us know that breakfast is served.  You can opt for either a cooked breakfast or a selection of cereals, fruit and yoghurt.  They do their upmost to cater for any breakfast requirement.   Jasmine loved the fresh strawberries and grapes.  Lydia and Jan had set a chair with a cushion for Jasmine and even her own little cup and spoon.
Over breakfast Jan tells us all about the castle from the history of Castle Levan to stories of the White Lady. One of my favourites, which I'd like to share, is a story of a family who stayed at the castle.  They had 2 young boys in the group who mentioned in the morning that the White Lady had not made an appearance.  So off Lydia went donning a white sheet and ran through the castle past the boys.  The boys thought this was great, but one of them said "why was the white lady wearing Lydia's slippers!"  Such a sweet story and one that shows how far Lydia and Jan will go to make their guests feel at home and make their stay memorable.  Lydia however did feel a shiver as she was running through the castle, so she doesn't think the White Lady was impressed with her pretending to be her!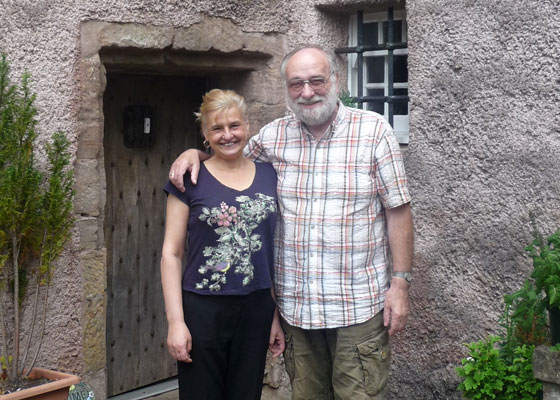 The castle is filled with books and videos as far as the eye can see, so the castle is not for those who like modern and minimalistic properties.  However for those who would like the more personal, homely feel in a real castle with the real owners then this sure is a great choice.
After breakfast we take our bags to the car and say our goodbyes to Lydia and Jan.
Our time at Castle Levan was certainly memorable and I can see why lots of people choose to return as they are such wonderful hosts.
After saying our goodbyes we are on the road again!
For more information on Castle Levan or to make a booking, please click here.